As a maritime analyst, you want to maximize your analytical ability for your budget. Therefore, you need the best maritime software available on the market. How do you decide on your magical combination of resources?
Using our tactics below will help you when choosing maritime software. All maritime data subscriptions are slightly different: each has strengths and weaknesses. You need to choose a combination of tools that will optimise your strengths and the slant that you have. Yes, everybody's needs are different.
The good news is, there are more tools on the market than there has ever been. Plus, there are lots of data streams you can get for free. There is also a generation of tech entrepreneurs trying to fight for your budget with new innovations. Some will make it, others won't.
The Landscape of Maritime Software
Last week, Skysail Advisors published a Maritime Technology Landscape chart to try and make things easier for you.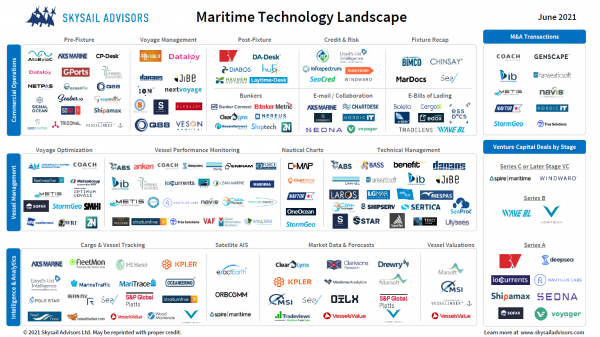 The Chart has a section for 'Intelligence and Analytics`. In it, they added a subcategory for cargo & vessel tracking, satellite AIS, vessel valuations and market data & forecasts. The world of the analyst doesn't always fit into these neat categories, but this is still a great display of the many options available.
So here are our top five tactics for choosing your maritime software:
1. Select Maritime Software That Saves You Time
One of the biggest challenges you have as a research analyst is maximizing your available time to analyse. Therefore, you need data that is organised, intuitive and easy to use. The last thing you want to do is spend days compiling data to test a theory. Unstructured, uncleaned data is the worst to use. Instead, look for software that's been designed by shipping analysts that will make your life easier and allow you to find impactful intelligence quicker.
When we ask our customers for feedback, those that have switched from other suppliers firstly tell us about the time they've saved. Often simple design and taxonomy details make a huge difference to you.
2. Share Costs of Maritime Software with Other Departments
Often subscriptions can be used across your business. If your company has a chartering department, they will certainly be using AIS software. While this is essential for a research analyst, it's also essential for those fixing ships. Therefore, getting other departments to bear some of the cost in their budgets enables you to spend more money on other research products.
3. Pick Partners, not Providers
When you subscribe to a service you expect to be handled by experts. They need to have good support and respond to your queries fast. The worst thing to happen is you have pressure to complete a time critical analysis and you don't understand the data with no one to help you.
You need to build a good relationship with a service provider. This means you can often influence design decisions so that it fits more to your exact needs. Look for companies that are willing to listen and help you on your research journey.
4. Double Down on Your Specialist Slant
Whoever you produce research for will have a specialist area. So, whether it's a ship owner that operates a particular cargo or a broker that specialises in a particular vessel or region, whatever the speciality is you need to provide top research in this area.
You will need to take a further step down into their niche and get all the best information. For example, if you are a Supramax owner carrying forestry products then you might want to have specialist forestry data feeds in pulp and wood chips. You would therefore choose a specialist publication like Hawkins Wright. Then you can separate your expertise compared to all the noise in the rest of the market.
5. Get the Right Tool for the Right Job
Too often data supplies stretch the purpose of their primary data source.  For example, AIS data is optimal for tracking individual vessels for operational or competitive analysis. But it is less useful when aggregated together for trend analysis. Equally customs data is optimal for cargo-based trend analysis but less useful for understanding immediate market fluctuations.
If you are using a sub-optimal tool then you can easily reach the wrong conclusions in a business where small percentages make a big difference.
Conclusion
It's important you see subscription resources in tandem with what your department can achieve. Well organised, structured data can save you heaps of time and is well worth the investment. Look outside your boundaries and see who else can benefit and join together in building greater capability throughout your business.
Getting the right combination of data and intelligence is key so you can absorb well thought out content. Doing so will give you the ability to discover new theories and insights. Get the most out of your partners by building good relationships. This will give you a greater impact for your efforts.
Data and intelligence are the commodities that can make us thrive.
Written by Russell Thompson