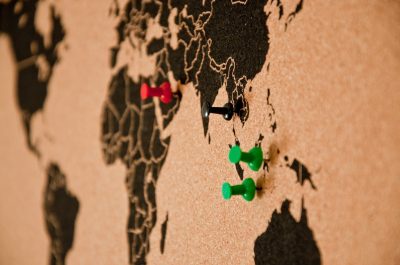 Within shipping and global trade, major players such as China and America appear to permanently dominate the industry. Yet positive growth rate for South-East Asia's bulk trade in recent years has directly impacted the industry. 
Accelerating Trade throughout the Region
There appears to be a battle for China's backyard. Vietnam, Indonesia, Malaysia and the Philippines are some of the region's strongest countries in terms of stable trade growth. However, the growth rate seems to be limited to dry bulk. Regional tanker trades have been declining, with the only tanker vessels showing consistent growth being LNG vessels. 
Throughout 2015-2019, dry bulk imports increased by approximately 158 million tonnes (from 295 to 453 million tonnes). Despite a 5% fall in imports in 2020's pandemic, key countries within South-East Asia, like Vietnam, remain strong.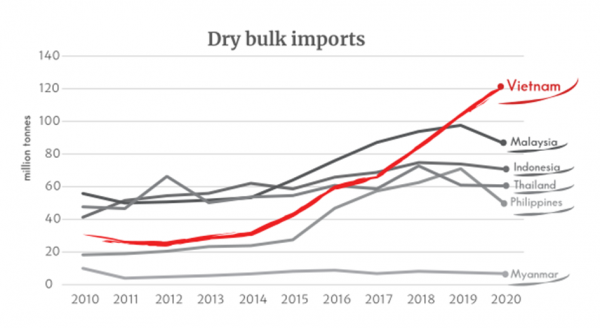 Source: Tradeviews 
South-East Asia In Perspective
In both geopolitical and commercial terms, South-East Asia holds a favourable position. Unsurprisingly, key players attempt to take advantage of the region's circumstances. America seeking a foothold in investments, whilst China desires to exert influence over resources and trade. Surrounded by American allies, China undoubtedly views South-East Asia as highly attractive. China is currently the region's largest trading partner.  
South-East Asia possesses an alluring market, a rapidly strengthening economy and 700 million people residing within the region. Holding an ideal location for trade routes, the region is a less hostile point of access to Indian and Pacific Oceans. When considered as one country, South-East Asia would rank fourth in global economic size, pursuing closely behind China, America and India. This does not take into account living costs. It's no wonder there is a battle for China's backyard taking place.
These investments may have drawbacks on a larger scale, perhaps contradicting positive elements of the relationship. One imbalance being increased job opportunities with some investors frequently importing workers from China, rather than employing locals. Military manipulation may lead to a continued split arrangement of foreign investments between America and China.  

Source: Tradeviews
Vietnam: A pearl amongst 10,000 oysters
Vietnam has an impressive growth rate in recent years. Dry cargo imports have nearly doubled from 66 million in 2017, to 120 million in 2020. But why? 
Firstly, Vietnamese government have prioritised growth of the digital economy and manufacturing. Along with higher import levels, Vietnam's production rate is growing significantly. Benefitting from the US-China 'trade-war,' Vietnam managed to attract foreign investors whilst increasing exports to the US. Arguably, the tariffs placed on China's trade during this time further permitted Vietnam to gain footing within global trade.  
Furthermore, Vietnam became part of several economic and trade agreements. Some of the most important being: The Regional Comprehensive Economic Partnership (RCEP), The Comprehensive and Progressive Agreement for Trans-Pacific Partnership (CPTPP) and The AsiaPacific Economic Cooperation (APEC). Vietnam also inked trade agreements with the UK and European Union. Combined, these agreements all benefit Vietnam and boost trade flow. 
Vietnam can be termed 'one of a kind' due to its performance during the 2020 pandemic. The country's trade growth expanded for both imports and export. Not many countries around the world can boast this. 
What are the best 
P
erforming 
C
ommodities?
For South-East Asia as a whole, dry bulk commodity imports have risen steadily over the last 5 years. With the pandemic causing only slight drops in cement imports but maintaining levels for other commodities such as wheat, coking coal, iron ore and maize. Steam coal throughout the region increased from approximately 121.6 to 125.5 million tonnes in 2020.
The majority of Vietnam's imported dry bulk commodities (wheat, coking coal, iron ore and maize) have experienced a noticeable increase, but none to the extent of steam coal. This reflects the number of both scheduled/under-construction power plant projects as well as the resulting demand for electricity generation and consumption.
 
Which vessel types have benefitted most?
Panamax vessels have been utilised most from the growth. Our analysis shows that cargo growth into the region would utilise another 235 additional Panamax/Kamsarmax vessels on a full-time basis between 2017 and 2020. This is almost double the rate of the Supramax and Handymax vessel requirement. The added bonus of operating in the region being there is no shortage of outbound cargoes either. Particularly, Indonesia coal exports provide a convenient round-trip opportunity. Altogether, it can make scheduling so much easier to vessel operators, reducing risks.
Conclusion
So far, the upward trend of growth in South-East Asia and in particular Vietnam, are stable and resistant to global factors. We look forward to a continued and possibly accelerated increase for South-East Asia trade as a whole and hopefully many more emerging "pearls" within the region.  The battle for China's backyard will be one to watch.
By Georgia Anastasiou