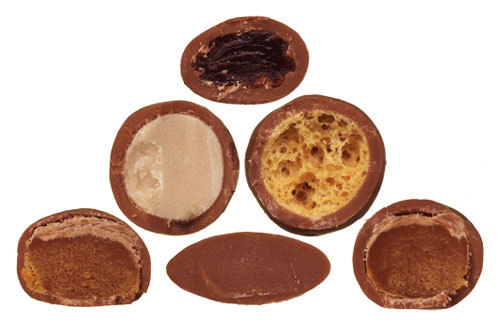 Some flavours are perfectly acceptable, palatable to nearly everyone.  Some are a bit nasty and are always left behind.  And some are worth fighting for. In Shipping, just like Revels chocolates there are always winners and the losers left in the bag.  Who wins and who loses depends on what's inside.  Mars Inc* knew this back in 2008 with the rather clever Revels eviction campaign.
Coronavirus has presented the world with a 'lockstep' financial crisis; a once in a generation economic wound; on land, most certainly in the air but what the seas? In the 'sort of' words of Mark Twain; "Have the reports of our economic death been greatly exaggerated?"
Well the answer, much like our favourite chocolates, really depends on what's inside the ship.
Container shipping – not even a chocolate coating can save coffee
The consequences of half the world being at home is people bought less stuff.  Jeff Bezos own personal bank balance couldn't even plug the hole.  Many services were cancelled particularly on East to West routes. People are doing less and therefore are requiring less. But as the world re-opens it will be interesting to see just how long people will wait for next iPhone (other mobile phone manufacturers do exist).
Consumer demand will come back but it is likely to be down on pre-pandemic levels. High unemployment will take its toll and low job security is bound to make people more cautious in spending. Sadly this will continue to be a drag on containers although there has been recent positive news out of China's container ports as most services return to more normal frequency.
Verdict: Gone a bit soggy.
Tankers – Have we over-eaten caramel?
Tankers looked like they were the winners, early doors but how much of that was down to other events?  Well quite a lot it seems. The oil price fell in March from approximately $50 to $25 per tonne creating an economic stimulus to a world in lockdown which is surely a contradiction in terms. Nevertheless the world brought as much of the gooey stuff as it could at bargain basement prices.
The oil industry will have much lower demand. The airline industry is not expecting to see 2019 levels until 2023. Car miles are down as the middle classes work at home and realise they can be just as effective. On the positive side diesel demand is holding up. White van driver is bringing us all we need via the kind people at Amazon. Refinery runs have fallen 10 to 15% indicating the lack of real demand in the market place. These will recover eventually but at a slow pace which could last well into next year.
So who got the last rolo? Well that will be the traders who chartered vessels as floating storage, patiently waiting for oil prices to increase. Our calculations show that in April real demand fell 5% while floating storage created an equivalent of 8% growth. Thus, the overall affect was a stronger market with rocketing freight rates. At the time, operators and newspaper were rejoicing but of course the jubilation was short lived as 'real remand' continued to fall. The price of oil has been rising since and floating storage vessels will find their way back into the market again.
Verdict: A bit too sweet.
Bulkers – A bag of mixed Revels is much better
The Baltic Dry Index has been underwhelming since the outbreak, but the reality is it was already at a low point. So, there is not much flex in the index.  Compared to a turbulent first half of 2019 demand has not been any worse. Our data shows that the first quarter was 1% below last year and April is now 3% ahead of last year.
Bulkers are the work horse for so many diverse markets; energy, construction, agriculture and manufacturing. Each of these sectors has different drivers, which is handy when a global event distorts demand.
Energy demand reduced as economic activity fell, reducing the large coal requirement. Construction projects have faltered for a few months in the West but steel and building materials in Asia seems to have maintained strength
Agriculture has done well so far as consumers; and in turn countries, have panic brought stocks for some sort of bake-off challenge. Add these and the other sectors like forestry and fertilisers and the net effect is JUST an underwhelming year. In reality that's an amazing result considering the gloomy forecasts earlier in the year.
The Jury is out with a spread of opinions about the future outlook. The answer is complicated as we discussed due to the many industry sectors it covers. It will have much to do with government action. For a country's economy to recover it's very hard to stimulate consumer demand without restoring jobs. One way to help this process is to commission building projects.
A major factor in the developing world's success over the last 20 years is down to infrastructure developments. In the last few years China had held back on this while trying to transition to a more high tech economy. In the reality of a global pandemic and reduced consumer demand, a good option is to increase infrastructure spend again. Indeed, there are plenty of projects already approved. The challenge is to build well, better railways and connections rather than bridges that lead to nowhere. Now is also the right time to push ahead with One Belt One Road.
Other more developed economies will struggle to build. Any infrastructure projects will inflict further damage to the balance sheet but with interest rates likely to be low for the foreseeable future, it's likely to be an option.
As we write this article the Capesize vessel time charter rates has been on the move in an upward direction for several weeks. Brazil's Iron ore supply issues seem to be resolved and China appears to have the appetite to make more steel. As we approach the second half of the year we could definitely see a more positive sentiment.
Fingers crossed. One of the big three vessel classes needs to do well.
Verdict: Variety is the spice of life.
The verdict
Back to our initial question, "Have the reports of our economic death been greatly exaggerated?" Our analysis has shown the answer is yes and no. This is a sectorial crisis and tastes and needs have changed. Without sugar coating it – some sectors are in real trouble, affecting thousands of jobs, others will do just-fine. The overall effect is a 90% economy which will hit most shipping companies bottom line. Economic injection really lies with the vaccine but until then The Revels will be reveling. …
*Revels Eviction campaign was ran by Mars Inc in 2008.  P.S.  Coffee lost. The chocolate was the favourite.