In this article we are going to run through the basic features of the Trade Analytics Platform, also  known as TAP. 
Module selection
First of all, choose which module you require. The green box on the left of the screen presents both  'arrivals' and 'departures for bulker and tanker cargoes, depending on your subscription. Departures  being the exports, and arrivals being imports.  
It's important to understand that arrivals data has a time delay due to the cargo having made the  journey first before it is recorded. Therefore, departure data provides the most recent exports from  a chosen country, whereas country data for arrivals is the end of the journey (this could be slowed  up even more if there is a congestion problem).  
Data differences may also occur if there has been transhipment. Arrival's data will not specify prior  stops within the shipping route, it will only show the country of origin for a cargo. Departure data  only shows the next port and not the final destination. If there are multiple stops along the way,  then each stage is recorded separately.  
Module selection will often depend on the type of analysis you wish to do. Bigger strategy pieces  you may gravitate towards Arrivals, for more recent demand shifts you would go for Departures. 
Screen selection 
The next step in data selection is choosing the right screen. There are 8 options available: summary,  cargo lookup, country lookup, trade matrix, growth trends, trade flow charts, seasonality charts and  download. The most popular are cargo lookup, country lookup and trade matrix.  
Summary – offers a high level view of general cargo information summarised at global level.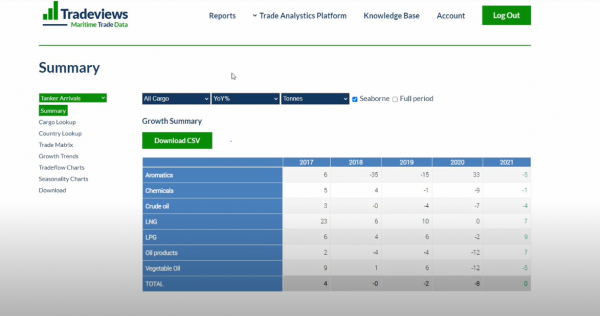 Cargo lookup – gives the ability to view cargo by countries and on a bi-lateral level. The focus is on  cargo selection and data will be displayed by country.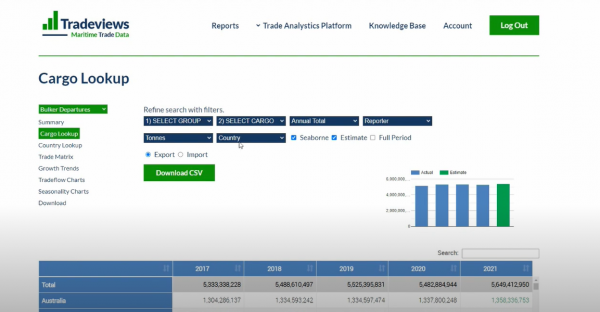 Country lookup – focuses on cargo after selecting the country data you wish to view.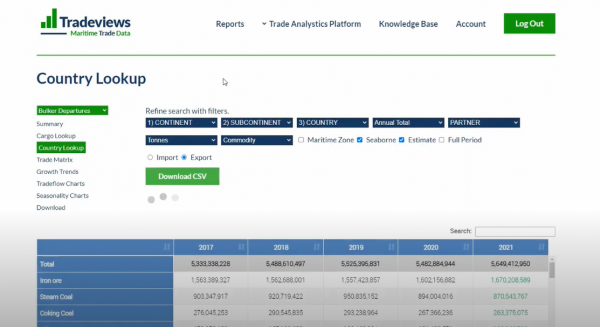 Trade matrix – presents bi-lateral flows. Here you can select a cargo and the data displayed is by export country and import country. There are plenty of options within this feature for a particular  country grouping.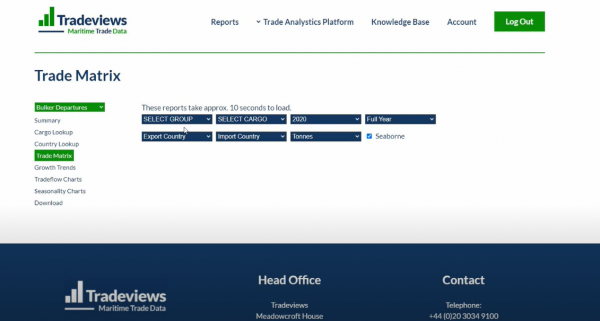 Growth trends – can be used to spot where the big changes in shipping have occurred. The available  filters are country, cargo or cargo by country. Time filters such as quarterly, annual or monthly allow  the user to view big movements in a certain time frame.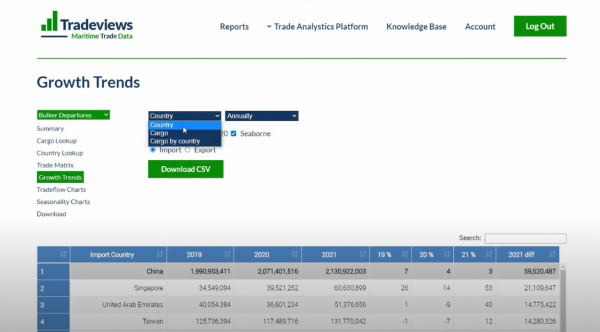 Trade flow Charts – provide interactive diagrams and charts on trade movement in the world. By  clicking on certain data in the country or cargo chart, this will rearrange the data in the main chart to  reflect this query. By clicking the downwards arrow at the top of a diagram, you can 'drill down' into  certain aspects. For example, clicking the drill down button in 'import country' and then clicking on  Asia, Far East and then China. This changes the other charts to reflect data for China. By holding the  'control key' you can select another variable. For example, by clicking China and Agriculture, we can  see that most agriculture imports to China come from North America and Latin America.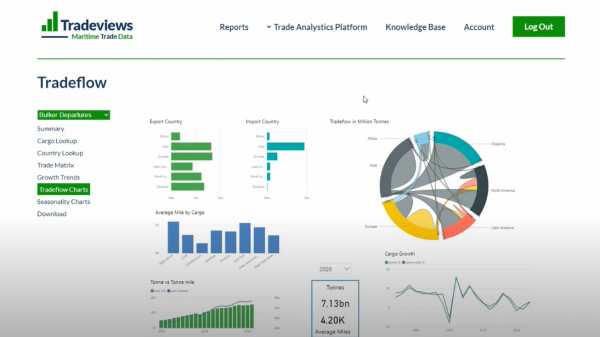 Seasonality charts – detects seasonality for different periods. The main chart shows seasonality over  3 years, while the smaller charts show quarterly and monthly trends when aggregated. Again, it's  possible to click on certain cargo or country (or both using the Control key) to view more specific  data.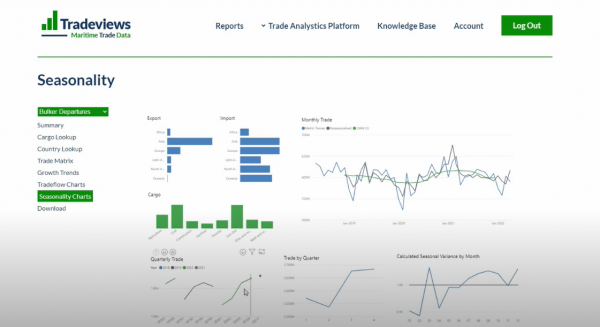 Downloads – gives you a quick way to download data in a flat file. it's possible to choose types of  cargo and sub categories in a chosen year. You can choose whether to download data as monthly or  annual figures. If you need to use downloads regularly, ask our team about accessing our 'client  server' so you can automate downloads.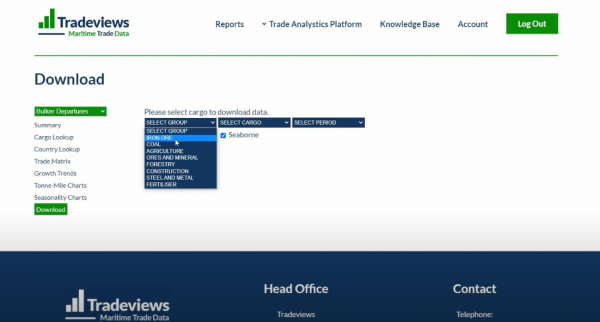 Estimates 
With each data selection tab, estimates are shown in green. Estimates occur when a full set of data  is not available. Our data is updated every few days as data is released and gradually the green  numbers reduce as we progress through each month. 
Estimates are calculated using linear regression and seasonality. In other words the current trend  line continues with the seasonal falls and rises adjusted into the estimate. This is useful in  anticipating the annual for the current year and saves you time making difficult projection  calculations. Please note, no manual estimates are made, they are based purely on algorithms.  
This has been a basic introduction to TAP. Please look at our in depth tutorials to learn more. As  always, if you have any questions, please contact our team.