Africa exports more than it imports. Whilst African Trade is a slow burner, it's interesting to note where these commodities arrive and depart from. North Africa tends to be the major importer. Whereas South Africa remains the key exporter. Construction imports, particularly cement, have decreased over the years, despite South Africa's drive to modernise. There have been significant changes in the last ten years to crude oil, as well as oil product imports in Africa. Ores and mineral exports are growing, specifically aluminium ore from Guinea.
Dry Cargo Imports are Lacklustre
Dry bulk imports into Africa have been relatively stable throughout the last ten years. This could be considered poor form for a developing nation. The largest commodity group imported overall during this period is agricultural products. Despite efforts to home grow produce, reliance on other countries is still strong.
Construction materials actually saw significant decreases during the last five years as cement empires led by the infamous Aliko Dangote, the Nigerian business tycoon, met the need internally. So, most of these imports heading…where? The answer is Northern Africa which receives the majority of this dry cargo. In 2020, they required a whopping 125 million tonnes out of the total 244 million tonnes shipped to Africa. It would appear grain is the main commodity which continues to be imported to Africa, suggesting some development is taking place.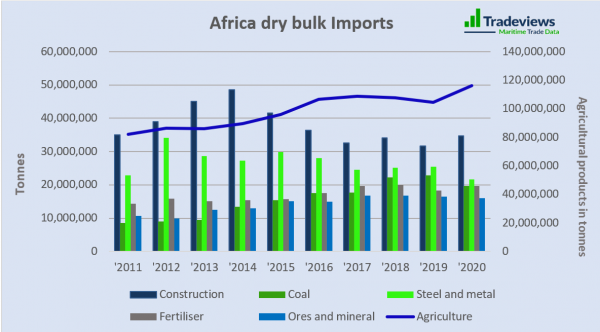 Dry Cargo Exports are Mainly Project Driven
Africa exports more dry cargo than it imports. Peaking in 2020, Africa managed to churn out nearly 355 million tonnes of dry cargo. Ores and minerals in particular have experienced a huge increase. In the last five years exports jumped from 32 million tonnes in 2005 to over 117 million tonnes in 2020. Various mineral projects have appeared, funded by China's insatiable appetite for materials. South Africa appears to be responsible for the majority of dry exports. 172 million tonnes of dry cargo were exported from here in 2020. A steady output of South African coal provides the backbone of this regions' trade.
Africa as whole exported around 75.5 million tonnes of aluminium ore (bauxite) in 2020. Almost all of this, 72.7 million tonnes to be exact, came from Guinea. Exports of this commodity are growing continuously as China's capacity increases.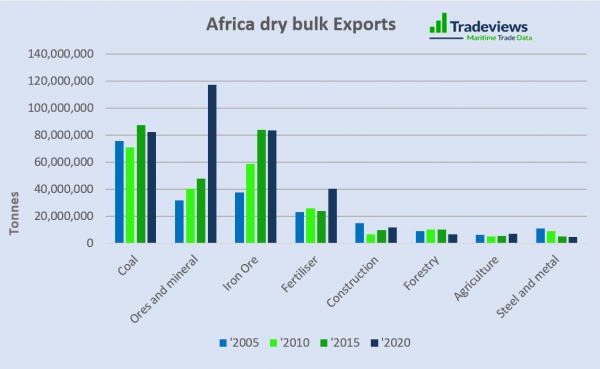 Africa and Crude Oil
Crude oil exports have experienced a gentle downward trend over the last ten years. Much of Africa's economy depends on oil revenues. In order to industrialize and create more jobs, power infrastructure needs to improve and more refineries need to be built to assert more independence. Crude oil contracts between Nigeria and the US provided a steady receiver of Africa's crude oil. However, the Shale gas revolution has meant a reduced need for oil in the US, whilst Asia's demand has been met by the Middle East. In short, Nigeria appears to have lost out in the midst of this with export levels shrinking in turn.
A major crude oil exporter tends to be Middle Africa. Closely following behind are Western Africa and then Northern. Despite these commonalities, Nigerian (West) crude oil exports average around 85 million tonnes per annum over the last five years. Nigeria also ranks 7th globally for exporting crude oil. Imports of crude oil into Africa are decreasing by the year. However, quantities of oil products received remain significant.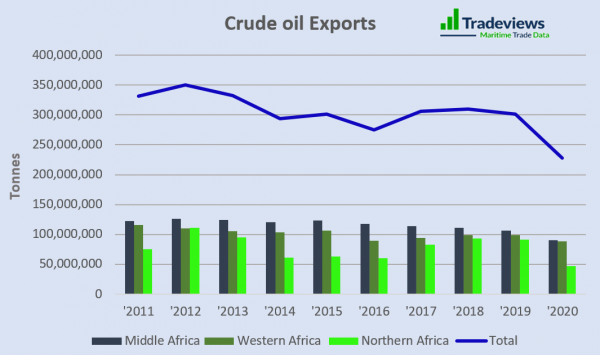 Final Thoughts
On the whole, Africa is relatively stable in terms of both imports and exports. There have been some significant peaks, like with agriculture imports and mineral exports. If Africa can get the wheels of changing turning faster, volumes of dry and wet cargo would have much more potential.
The pandemic and lower oil consumption levels have clearly dented tanker volumes. While key nations like Nigeria and South Africa continue to lead the charge, there are many mineral rich counties around the continent that have new projects in the wings. Therefore, it's likely exports will continue to grow. It would be ideal if imports were to match. Hopefully, any revenues earnt through their resources will be fed back to the economy and not pocketed by the few.
Written by Elizabeth Tebay